Prof. Dr. FÜSUN EYİDOĞAN

Sınıf Öğretmenliği Programı
---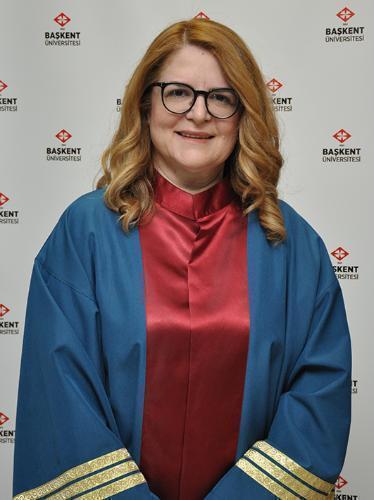 Tel : 0312 246 6791
E-Posta : fusunie[at]baskent.edu.tr

Doktora (2001), Orta Doğu Teknik Üniversitesi, Biyoteknoloji
Yüksek Lisans (1995), Orta Doğu Teknik Üniversitesi, Biyoteknoloji
Lisans (1992), Orta Doğu Teknik Üniversitesi, Biyoloji
Ödüller
---
Eyidogan F, Güneysu S, Tekmen B. good practice example. ulusal ajans", ulusal ajans ankara", 06/03/2019.


Projeler
---
Eyidogan F, Guneysu S, Kucukturan G, Tanju E, Demirbas H, Kogar H. ?Çocuğum okula gidiyor?ilköğretimdeki çocuk velilerine rehber. ", ankara", unicef", 15/06/2010.


Eyidogan F. Soğuk stresinin arpada antioksidant mekanizma üzerine etkisinin moleküler düzeyde incelenmesi. ", baskent universitesi", tubitak", 01/10/2007.


Kitaplar
---
Öz T, Eyidogan F. nasir khan editors. Hydrogen sulfide and plant acclimitation to stress. springer: springer; 2021


Kayıhan C, Eyidoğan2 F. omics in oxidative stress tolerance in crops. In:mirza hasanuzzaman,vasileios fotopoulos,kamrun nahar editors. Reactive oxygen nitrogen and sulphur sprecies in plants. : wiley; 2019. p.191-212.


Ceyhun K, Meral Y, Tufan O, Huseyin AO, Yasemin E, Nuran Ç, Baloğlu C, Bayrac T, Ceren B, Yılmaz R, Aksoy E, Irfan K, Cansu FI, Özlem A, Demet Ç, Çağatay T. fusun eyidoğan editors. biyoloji öz. türkiye: pearson-nobel; 2015


Oz T, Eyidogan F, Yucel M, Oktem HA. functional role of nitric oxide under abiotic stress conditions. In:nasir khan editors. nitric axide action in abiotic stress responses in plants. : ; 2015. p.21-43.


Eyidogan F. Eric Simon editors. Biology :Core. : Pearson; 2014


Koştur HI, Koğar H, Eyidoğan F. İlker KOştur, Hakan KOgar, Fusun Eyidogan editors. Fen ve Teknoloji Laboratuvar Etkinlikleri. ankara: nobel; 2012


Eyidogan F, Oz MT, Oktem HA, Yucel M. Signal Transduction of Phytohormones Under Abiotic Stresses. In:Khan, N.A.; Nazar, R.; Iqbal, N.; Anjum, N.A. (Eds.) editors. Phytohormones and Abiotic Stress Tolerance in Plants. : springer; 2012. p.1-49.


Yılmaz R, Eyidoğan F, Öz T, Yücel M, Öktem HA. maddalena querci editors. gıda örneklerinde genetiği değiştirilmiş organizma analizleri. italya: ; 2010


Oktem H, Eyidogan F, Selçuk F, Teixeira Da Silva J, Yücel M. Revealing response of plants to biotic and abiotic stresses with microarray technology. In:JA Teixeira da Silva editors. genes genomes and genomics. japan: Global Science Books; 2008. p.15-41.


Makaleler
---
Çulha Ş, Eyidoğan F, Ekmekçi Y. Comparative physiological and proteomic analysis of cultivated and wild safflower response to drought stress and re-watering. HYSIOLOGY AND MOLECULAR BIOLOGY OF PLANTS, 2021; 27(2):281-295. ( SCI-Exp : Science Citation Index-Expanded (SCI dahil) )


Bayrac AT, Akca OE, Eyidoğan F, Öktem HA. Target-specific delivery of doxorubicin to human glioblastoma cell line via ssDNA aptamer. JOURNAL OF BIOSCIENCES, 2018; 43(1):97-104. ( SCI-Exp : Science Citation Index-Expanded (SCI dahil) )


Arslan O, Eyidoğan F, Ekmekci Y. Freezing tolerance of chickpea: biochemical and molecular changes at vegetative stage. BIOLOGIA PLANTARUM, 2018; 62(1):140-148. ( SCI-Exp : Science Citation Index-Expanded (SCI dahil) )


Bayrac C, Eyidoğan F, Öktem HA. DNA aptamer-based colorimetric detection platform for Salmonella Enteritidis. BIOSENSORS & BIOELECTRONICS, 2017; 98(1):22-28. ( SCI-Exp : Science Citation Index-Expanded (SCI dahil) )


Kayıhan C, Öz MT, Eyidoğan F, Yücel M. Physiological, Biochemical, and Transcriptomic Responses to Boron Toxicity in Leaf and Root Tissues of Contrasting Wheat Cultivars. plant moleculer biology reporter, 2017; 35:-. ( SCI-Exp : Science Citation Index-Expanded (SCI dahil) )


Eyidogan F, Terzioğlu S, Ekmekçi Y. DOES SUBLETHAL TEMPERATURE TREATMENT PROVIDE ANY TOLERANCE IN TETRAPLOID WILD AND DURUM WHEAT SEEDLINGS EXPOSED TO LETHAL HEAT STRESS?. fresenius environmental bulletin, 2016; 25:6045-6053. ( SCI-Exp : Science Citation Index-Expanded (SCI dahil) )


Erkal N, Kayıhan C, Öktem HA, Yücel M, Eyidoğan F. Changes in oxidative damage and antioxidant enzyme activities of barley (Hordeum vulgare L.) cultivars exposed to rewarming upon freezing stress. TURKISH JOURNAL OF BIOCHEMISTRY-TURK BIYOKIMYA DERGISI, 2015; 40(5):363-369. ( SCI-Exp : Science Citation Index-Expanded (SCI dahil) )


Çiçek N, Arslan Ö, Çulha Ş, Eyidoğan F, Ekmekçi Y. ARE THE PHOTOSYNTHETIC PERFORMANCE INDEXES AND THE DROUGHT FACTOR INDEX SATISFACTORY SELECTION CRITERION FOR STRESS?. fresenius environmental bulletin, 2015; 24(11):4190-4198. ( SCI-Exp : Science Citation Index-Expanded (SCI dahil) )


Kucukturan G, Eyidogan F. okul öncesi dönemde kavram gelişiminin kavram haritaları yoluyla değerlendirilmesi. baskent university journal of education, 2015; 2(1):106-114.


Aysin F, Erson E, Eyidogan F, Oktem H. Generating salt-tolerant Nicotiana tabacum and identification of stress-responsive miRNAs in transgenics. turkish journal of botany, 2015; 37(5):757-763. ( SCI-Exp : Science Citation Index-Expanded (SCI dahil) )


Senyurt O, Eyidogan F, Yilmaz R, Oz T, Ozalp C, Arica Y, Oktem HA. Development of a paper-type tyrosinase biosensor for detection of phenolic compounds. BIOTECHNOLOGY AND APPLIED BIOCHEMISTRY, 2015; 62(1):132-136. ( SCI-Exp : Science Citation Index-Expanded (SCI dahil) )


Oz T, Turan O, Kayıhan C, Eyidogan F, Ekmekci Y, Yücel M, Oktem HA. Evaluation of photosynthetic performance of wheat cultivars exposed to boron toxicity by the JIP fluorescence test. Photosynthetica, 2014; 52(4):555-563. ( SCI-Exp : Science Citation Index-Expanded (SCI dahil) )


Özalp C, Zeydanlı U, Lunding A, Kavruk M, Öz T, Eyidoğan F. ? Nanoparticle embedded enzymes for improved lateral flow sensors? Analyst, 2013, 138, 4255-4259.. Analyst, 2013; 138:4255-4259. ( SCI-Exp : Science Citation Index-Expanded (SCI dahil) )


Kayıhan C, Eyidogan F, Avşar N, Oktem HA, Yucel M. Cu/Zn superoxide dismutase activity and respective gene expression during cold acclimation and freezing stress in barley cultivars. BIOLOGIA PLANTARUM, 2012; (4):693-698. ( SCI-Exp : Science Citation Index-Expanded (SCI dahil) )


Oktem HA, Senyurt O, Eyidogan F, Bayrac C, Yılmaz R. Development of a laccase based paper biosensor for the detection of phenolic compounds. JOURNAL OF FOOD AGRICULTURE & ENVIRONMENT, 2012; 10(2):1030-1034. ( SCI-Exp : Science Citation Index-Expanded (SCI dahil) )


Cansız S, Özen C, Bayrac C, Bayrac T, Gul F, Kavruk M, Yılmaz R, Eyidogan F, Oktem HA. A sandwich-type DNA array platform for detection of GM targets in multiplex assay. EUROPEAN FOOD RESEARCH AND TECHNOLOGY, 2012; 235(3):429-437. ( SCI-Exp : Science Citation Index-Expanded (SCI dahil) )


Özalp VC, Eyidogan F, Öktem H. Aptamer-Gated Nanoparticles for Smart Drug Delivery. pharmaceuticals, 2011; 4(8):1137-1157. ( EBSCO )


Aksoy S, Hekimbaşı T, Eyidoğan F, Öktem HA, Budak H. Application of Fiber-FISH methods for tansgene analysis in transgenic plants. chrmosome research, 2009; 17(Suppl):170-170. ( SCI-Exp : Science Citation Index-Expanded (SCI dahil) )


Aysegul Y, Sahin F, Eyidogan F, Kuru M, Haberal M. Grafting tomato plant on tobacco plant and its effect on tomato plant yield and nicotine content. Journal Of The Scıence Of Food And Agrıculture, 2009; 897:1127-1128. ( SCI-Exp : Science Citation Index-Expanded (SCI dahil) )


Yaşınolk A, Şahin F, Eyidoğan F, Kuru M, Haberal M. Grafting tomato plant on tobacco plant and its effect on tomato plant yield and nicotine content. Journal of the science of food and agriculture, 2009; 89:1122-1128. ( SCI-Exp : Science Citation Index-Expanded (SCI dahil) )


Öz MT, Yılmaz R, Eyidoğan F, De Graaf L, Yücel M, Öktem HA. Microarray analysis of late response to boron toxicity in barley leaves. Turkish Hournal of Agriculture and forestry, 2009; 2:191-202. ( SCI-Exp : Science Citation Index-Expanded (SCI dahil) )


Öz MT, Eyidoğan F, Yücel M, Öktem HA. Optimized selection and regeneration conditions for agrobacterium mediated transformation of chickpea cotyledonary nodes. Pakistan journal of botany, 2009; 41(4):2043-2054. ( SCI-Exp : Science Citation Index-Expanded (SCI dahil) )


Ersayın Yaşinok A, Şahin Fİ, Eyidoğan F, Kuru M, Haberal M. Tütün Üzerine Aşılanmış domates meyve ve yapraklarında nikotin miktarı değişimi. Diyaliz Transplantasyon ve Yanık, 2008; 19(2):61-69.


Yaşınok A, Şahin F, Eyidoğan F, Kuru M, Haberal M. tütün üzerine aşılanmış domates ve meyve yapraklarında nikotin miktarı değişimi. diyaliz transplantasyon ve yanık, 2008; 19(2):61-68.


Oktem H, Eyidogan F, Demirbas D, Bayrac T, Oz MT, Ozgur E. Antioxidant responses of lentil to cold and drought stress. J. of plant biochemsitry and biotechnology, 2008; 17(1):15-21. ( SCI-Exp : Science Citation Index-Expanded (SCI dahil) )


Eyidogan F, Oz T. Effect of salinity on antioxidant responses of chickpea seedlings. Acta Physiologiae Plantarum, 2007; 29:485-493. ( SCI-Exp : Science Citation Index-Expanded (SCI dahil) )


Antioxidant Responses of Shoots and Roots of Lentil to NaCl-Salinity Stress. Plant Growth Regulation, 2004; 42:69-77. ( SCI-Exp : Science Citation Index-Expanded (SCI dahil) )


Eyidoğan F, Öktem HA, Yücel M. Superoxide dismutase activity in salt stressed wheat seedlings. Acta Physiologiae Plantarum, 2003; 25(3):263-269. ( SCI-Exp : Science Citation Index-Expanded (SCI dahil) )


Öktem HA, Eyidoğan F, Setenci Ertuğrul F, Yücel M. Marker gene delivery to mature wheat embryos via particle bombardment. Turkish Journal of Botany, 1999; 23(5):303-308. ( SCI-Exp : Science Citation Index-Expanded (SCI dahil) )


Bildiriler
---
Gökdemir Ş, Işeri Ö, Eyidoğan F. Sitokinin Yolaklarındaki ArrB Transkripsiyon Faktörlerinin Tuz Stresi Altındaki İfade. 21. BİYOTEKNOLOJİ KONGRESİ: KASTAMONU; 27/12/2021 - 28/12/2021


Eyidogan F. pre service primary school teachers metaphores about teaching methods and active learning. global active learning summit: Tokyo-japonya; 03/08/2017 - 05/08/2017


Çulha Erdal Ş, Balkan Nalçaiyi S, Eyidoğan F, Ekmekçi Y. Probing the responses of safflower genotypes (Carthamus tinctorius L.) under drought stresses and re-watering using performance indexes. plant biology europe EPSO/FESPB 2016 Congress: prague-çek cumhuriyeti; 26/06/2016 - 30/06/2016


Özlem A, Erdal ŞÇ, Nalçaiyi AS, Eyidogan F, Ekmekçi Y. Influence of supra-optimal boron levels with salt pre-treatment on antioxidant enzyme activities, membrane damage and ion concentrations of two safflower cultivars. plant biology europe EPSO/FESPB 2016 Congress: prague-çek cumhuriyeti; 26/06/2016 - 30/06/2016


Çulha Erdal Ş, Nalçaiyi S, Eyidoğan F, Ekmekçi Y. Kuraklık ve Yeniden Sulama Uygulamalarına Maruz Kalan Aspir Genotiplerinde Sekonder. 18. biyoteknoloji kongresi: konya; 18/12/2015 - 19/12/2015


Eyidogan F. metaphors used by preservice teachers about healthy diet,foodwaste and GMOs. third 21st century academic forum conference at harvard: harvard-boston; 19/09/2015


Eyidoğan F, Akbaba Altun S. Metaphores used by perservice teachers about environment. WCCI 16th world conference on education: san diego, amerika; 17/08/2014 - 24/08/2014


Turan O, Öz T, Eyidogan F, Ekmekçi Y. kuraklık uygulanan nohut çeşitlerinde Cu/Zn Superokist dismutaz ve kuraklıkla induklenen genlerin ekspresyondaki değişimler. 22. Ulusal Biyoloji KOngresi: eskişehir; 23/06/2014 - 27/06/2014


Sezgin E, Eyidogan F, Ekmekççi Y, Terzioğlu S. Physiological Responses and recıvery potentials of cultivated and wild wheat seedlings exposed to heat stress. International plant breeding congress: antalya; 10/11/2013 - 14/11/2013


Kayıhan C, Eyidogan F, Öz T, Öktem HA, Yücel M. Boron stress induced changes in antioxidat enzymes imn wheat cultivars. XVII International PLant Nurition Colloqium Boron Satellite Meeting: istanbul; 17/08/2013 - 18/08/2013


Oz T, Gumusel D, Eyidogan F, Sutton T, Hay A, Pallata M. Determination of expression profiles of barley (Hordeum vulgare L) under boron toxicity and characterization of 3H boron transporter gene. 9th PlantGEM (Plant Genomics European Meeting: İstanbul; 04/05/2011 - 07/05/2011


Oz T, Eyidogan F, Yucel M, Oktem H. Expression profiles of barley (Hordeum vulgare L) reveal differences between responses under boron toxicity and deficiency?. Plant Gene Discovery Technologies, International Conference,: Avusturya; 23/02/2011 - 26/02/2011


Kostur İ, Eyidogan F, Koc K, Büyüköztürk Ş. Analyzing The Understanding Levels Of Certain Concepts and Topics of The Particular Structure of The Matter. ECER2010: Helsinki/ Finlandiya; 23/08/2010 - 27/08/2010


Kayıhan C, Öz T, Eyidoğan F, Ekmekçi Y, Yücel M, Öktem HA. bor uygulamaları ve tarımborun buğday bitkisi fotosistem II aktivitesi üzerine etkisi. 20. ulusal biyoloji kongresi: denizli; 21/06/2010 - 25/06/2010


Eyidogan F. bitkilerde abiyotik stress. ulusal biyokimya kongresi: istanbul; 28/10/2009 - 31/10/2009


Avşar N, Eyidoğan F, Öktem HA, Yücel M. effect of chilling stress onantioxidant response of winter and spring barley cultivars. conference"responses of plants to environmental stresses: bulgaristan; 12/05/2008 - 16/05/2008


Kayıhan C, Eyidoğan F, Öktem HA, Yücel M. eefct of cold stress on the xpression and activity of barley Cu/Zn SOD. conference"responses of plants to environmental stresses: bulgaristan; 12/05/2008 - 16/05/2008


Aksoy S, Hekimbaşı T, Eyidogan F, Oktem H, Budak H. Transgene Analysis in Transgenic Tobacco Plants by Fiber-FISH. XVI. International Plant and Animal genome conference: usa; 12/01/2008 - 16/01/2008


Afşar N, Yücel M, Eyidoğan F. SOĞUK STRESİNİN KIŞLIK VE YAZLIK ARPA ÇEŞİTLERİNİN OKSİDATİF STRES PARAMETRELRİNE ETKİSİ3. 15. Biyoteknoloji Kongresi: ANTALYA; 29/10/2007 - 31/10/2007


Afşar N, Eyidoğan F, Yücel M, Çakir E. Soğuk stresinin kolza çeşitlerinde fizyolojik ve kimyasal etkileri. 15. Biyoteknoloji Kongresi: ANTALYA; 29/10/2007 - 31/10/2007


Domates bitkisinde rejenerasyon ve biolistik yöntemi ile transformasyon çalışmaları. 15. Biyoteknoloji Kongresi: ANTALYA; 29/10/2007 - 31/10/2007


Kayihan C, Eyidoğan F, Oktem HA, Yucel M. SOĞUK STRESİNİN ARPA SUPEROKSİT DİSMUTAZ İZOENZİM AKTİVİTELERİ VE Cu/Zn GENİNİN EKSPRESYON SEVİYESİ ÜZERİNE ETKİSİ. 15. Biyoteknoloji Kongresi: ANTALYA; 29/10/2007 - 31/10/2007


Okul öncesi dönemde hayvan kavramının oluşumu. VII. Ulusal Fen Bilimleri ve Matematik Eğitimi Kongresi: ankara; 07/09/2006 - 09/09/2006


Optimization of a Regeneration and Transformation System for Lentil (Lens culinaris M., cv. Sultan-I) Cotyledonary Petioles and Epicotyl. 2006 World Congress of International Association for Plant Tissue Culture And Biotechnology: çin; 11/08/2006 - 16/08/2006


Eyidogan F, Güneysu S. İlköğretim 8. sınıf fen bilgisi kitaplarındaki kavram yanılgılarının incelenmesii. V. Fen ve Matematik Eğitimi Kongresi: ; 18/09/2002 - 20/09/2002